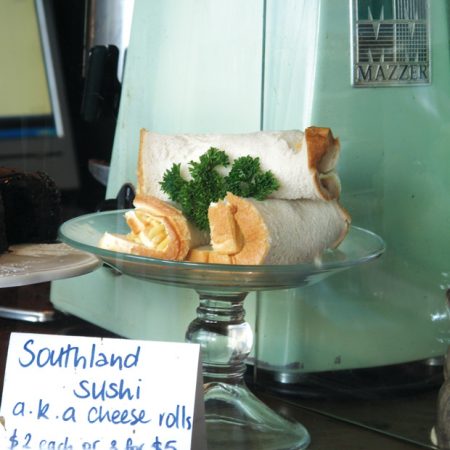 Like the historic tiffs over the pavlova, Russell Crowe and Marmite, the origin story of the cheese roll is also well debated. History books and family records have different versions of how the cheese roll came to be – some even claim their story began in Otago. Whatever the tale, they've always been part of Southland's fabric, much like supporting the Highlanders and rolling 'r's'.
Cazna Gilder from The Crib Cafe in Riverton inherited her recipe from her great-grandmother and has perfected her folding/rolling motion over the past few decades. This recipe isn't for the faint-hearted. It will create a rugby-team sized amount of rolls, and there's no such thing as having just one, or two, or even three…
INGREDIENTS
1½ loaves white or brown toast-sliced bread
½ brown onion, roughly chopped
2 tablespoons dijon mustard
2 packets Maggi onion soup mix
small handful parsley (optional)
1 tin evaporated milk (Nestle Carnation)
500g cheese, grated
METHOD
In a food processor whizz up the onion, mustard, onion soup mix and parsley. When smooth slowly add the evaporated milk. Pour into a microwave-proof bowl and add grated cheese. Heat in the microwave – the idea is to thicken the soup, not cook it. Two, two-minute bursts should do. Lay out the slices of bread whichever way is the longest to enable you to fold twice. Spread each slice with about two tablespoons of mixture then fold over twice. Press down on the last fold. Cook in a sandwich press or under a grill. For extra crunchy cheese rolls, butter the underside of the bread before toasting.